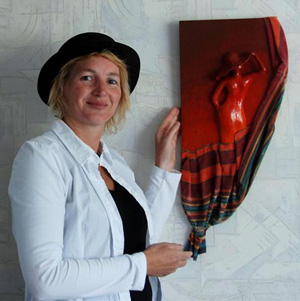 Jeannette Deli - English
Jeannette is a sculptress with sculpting in clay as a specialization. Jeannette makes her sculptures from chamotte clay completely at her own idea. She takes the human form as a start because the natural lines of it, wich are so recognizable for everybody. By letting her sculptures clean or just to combine them with wood, paint or cloths, she creates her own style and has unlimted posibilities.

Jeannette is autodidact and takes a couple of years succesfully in the famous Atelierroute in Huizen wich is an anual event in the second weekend of October

If you have a question or when you are interested in the work of Jeannette Deli, please send a mail to info@jeannettedeli.com.

Click on gallery to see some pictures of her work.